A little bit about Al Duomo
Set in the heart of Brighton, Al Duomo remains one of the oldest established Italian eateries in the city.
Originally named after the ornate dome above the India entrance of the Pavilion Gardens, the restaurant was first opened in 1979 by Dino Azzaroni and a team of passionate Italian companions, featuring Brighton's first wood-fired pizza oven.
Al Duomo has transcended ownerships and proudly been the backdrop of many-a family meal, wedding, Friday night festivity and quiet Sunday lunch for the past 42 years. Spanning five floors, featuring long-standing original interior walls, arched windows and a spacious outside terrazza, the site itself has become a large part of historical Brighton, sitting proudly on the Pavilion Buildings parade.
In recent times Al Duomo has been taken over entirely by family-run, Italian food manufacturing & distribution company, Carnevale, who have been partners in the business for the past 30 years. Alongside a team of new employees, experienced family members and well-established employees of Al Duomo, the restaurant is now being managed by accomplished Sardinian chef Ercole Cappai, previous owner of the much-loved The Latin In The Laine. The restaurant has since undergone extensive interior renovations, along with completely new and updated food, drink, dessert and gelato menus. A large part of the recent renovation included the creation of a new patisserie kitchen, meaning that the new authentic Italian menu now boasts a selection of desserts, gelato, coppe and fresh pasta, all made on-site.
Al Duomo now hopes to bring a high-quality taste and authentic feel of the Italian Mediterranean to the heart of Brighton.
Moving towards an ever-evolving hospitality and food industry, Al Duomo wishes to remain a dedicated member of Brighton's restaurant scene; centring ourselves around our customer experience and dedication to deliver an authentic taste of the motherland to this colourful seaside town of ours.
Fresh Local Brighton Seafood Restaurant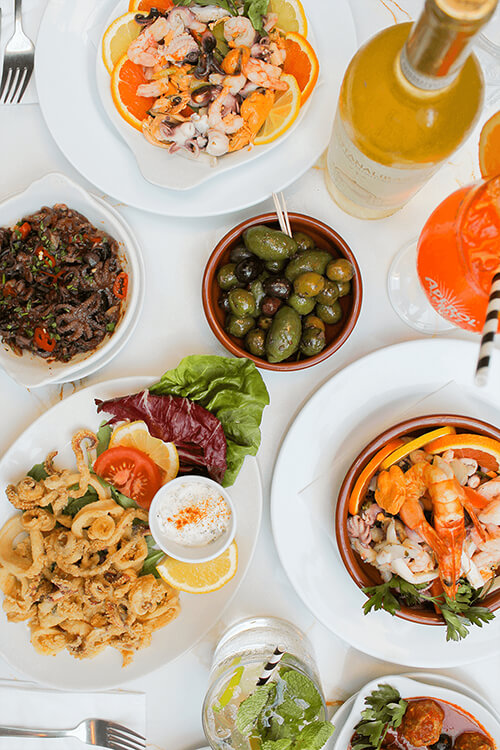 With Brighton's rich history of fantastic seafood, we are proud to source and serve some of the most fresh, local and delicious seafood and shellfish dishes across the city. Our seafood is delivered and prepared daily, with only the finest offerings from the daily catches making the chef's cut. Upon opening, we began our seafood dishes as daily specials, but based on the huge demand and enthusiasm for fresh seafood from customers – both locals and visitors- we have decided to dedicate an entire section of the new menu to Brighton's Best Italian Seafood.
We're incredibly passionate about good quality, simple food. Our chef has thoughtfully curated a selection of seafood dishes which are steeped in traditional Italian seaside-town charm but are equally timelessly enjoyable to seafood-lovers or first-time-seafood-triers of all kinds. Our fish dishes are reflective of our strive for delicious simplicity, where we use the best quality quintessentially Italian ingredients and recipes as a backdrop for the fresh local seafood we source.
Our head-chef & managing director has a wealth of experience with fresh pasta. Having established, managed & developed Pasta&Pasta – the fresh pasta makers & distributors based in London – we are lucky enough to have his huge depth of knowledge at our fingertips. We decided early on, that to differentiate ourselves from other Italian eateries in the city, we would handmake all our pasta – yes, all of it – filled and fresh! Although this process is a lot more time-consuming than breaking open a pack of dried pasta, we believe that this aspect of authenticity is invaluable to the customer experience. There are fundamental differences between dried and fresh pasta like, texture, taste, appearance etc. that sit the fresh pasta experience head and shoulders above the rest.
Our menu showcases typical Italian classics; spaghetti, orecchiette, troffie… all made from scratch in our patisserie kitchen, served with well-made, classic sauces that marry beautifully. We've ensured that there is a plate of pasta to be enjoyed by everyone; shellfish-lovers, meat-eaters, the fussy types, the vegans, the vegetarians and those of us who just love a classic, authentic pomodoro & basilico moment. The beauty of crafting these dishes from scratch ourselves is the guarantee that every single dish is filled with quality, nutritional goodness with nothing more and nothing less.
Stonebaked Sourdough Pizza
Al Duomo is historically home the home of Brighton's first wood-fired pizza oven. This is a title that we hold dear. When the restaurant was first established in 1979, the Italian community was fully forming itself in here Brighton, and it's true that Al Duomo set the precedence for quality immigrant-rooted cuisine in an up-and-coming town. Being able to watch your pizza being stretched, topped, thrown into the oven and browned to perfection, was a trailblazing experience in a small seaside town and we love that this is still the case today.
Pizza recipes vary from region to region in Italy and we've developed our sourdough recipe to make our pizza light & crispy – Torino style! Using farina 00 and leaving the dough to prove for a minimum of 24 hours, our pizze are topped with our own pomodoro & basil sauce, mozzarella fior di latte and an array of fresh ingredients, many of which we source directly from Italy.
A large part of the Italian culinary culture is the infamous gelato. We want our customers to enjoy a well-rounded, authentic experience with us, so of course we make all gelati and sorbets ourselves too. We like to keep our chefs busy! The secret to great gelato really is as simple as using the best ingredients, no scrimping or corner-cutting. We combine both our dairy and non-dairy flavours with either fresh fruits or dry ingredients and one of the gelato world's best-known base components.
We're proud to offer a vast 16-flavour gelato display year-round, with flavours constantly interchanging. We currently produce all our sorbets to be dairy-free, with our vegan range soon-to-be expanding. Our dessert menu features many of our gelato flavours in Coppa form – this is a traditional Italian style of dessert combining well-suited flavours and toppings in a tall glass – making for a really exciting (and fulfilling) gelato-eating experience! All our desserts are also made by our patisserie chef in-house.
Now, as we say in Italian – Siamo alla Frutta!
We're at the fruit! – traditionally Italians end their meal with fresh fruit. We hope you've enjoyed learning a little more about us and our food – the pride of our table and the lifeblood of our business. We hope you continue supporting our little Italian dream as much as we love cultivating our passion for simple, delicious food.
A presto!